Wealth Protect Status Update: April 2017
Reginald A.T. Armstrong • WealthProtect Status Update

This is the monthly WealthProtect System* status update and includes the probability (Low, Mid, High) of a change in status within the next two months. Below is a commentary on actions taken this month as well as changes in overall asset allocation.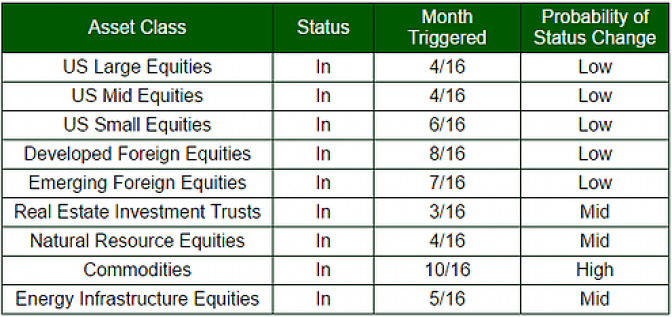 System Commentary
There are no trades in our WealthProtect System once again this month. Real Estate Investment Trusts, Commodities, and Emerging Foreign Equities reversed their trend and had a strong month. US equities, on the other hand, weakened a bit.
Market Commentary
Over the past 30 days (mid-March to mid-April), diversification has been rather helpful with most equity asset classes outperforming US equities. Bonds had a volatile 30 days, with 10 year US Treasury yields first spiking to 2017 highs and then as geopolitical concerns developed over Syria and North Korea, returning to 2017 lows as we approached Easter. Fundamentally, nothing much has changed. US equities and US bonds remain overvalued; many other asset classes remain more reasonably valued. From an economic standpoint, the longer the Trump Administration waits to release his tax plan, the more likely it weighs on the economy. Many businesses are optimistic about changes they expect to be proposed, but many may also be waiting to make business decisions until they know what the changes will likely be. The optimism that has boosted the US equity markets may fade if we don't get something concrete soon.