Wealth Protect Status Update: June 2017
Reginald A.T. Armstrong • WealthProtect Status Update

This is the monthly WealthProtect System* status update and includes the probability (Low, Mid, High) of a change in status within the next two months. Below is a commentary on actions taken this month as well as changes in overall asset allocation.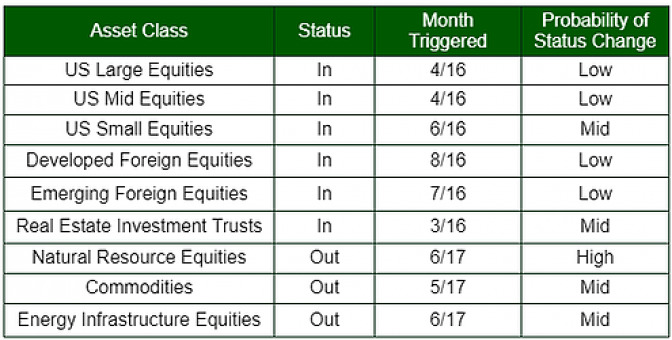 System Commentary
Continued weakness in real assets forced an exit from Natural Resource equities and energy infrastructure equities resulting in our most conservative position since late last summer.
Market Commentary
While US large cap equities and foreign equities in general continued to have strong relative performance, other asset classes weakened over the past month. Real assets in general continued to lose ground except for Real Estate Investment Trusts which gained as bond yields fell. Even US small company stocks continued to be relatively flat. My impression is that while headline US stocks (the part of the iceberg above the water) have continued to perform well, the majority under the water are struggling. This often happens before the rest of the market turns sour (to be fair, it also many times means nothing).
US stocks remain overvalued by all reasonable measures. The contrast you have in the market is one in which US large caps are indicating all is just fine, but the remainder of the market and, very importantly, bonds (as indicated by their dropping yields) are indicating not all is well. Since the summer tends to be bumpy for stocks, it is unlikely this is a good time to chase "hot stocks." Sticking to a rules-based strategy, while frustrating at times, we believe gives an investor the best chance of growing and protecting their wealth.