Wealth Protect Status Update: May 2017
Reginald A.T. Armstrong • WealthProtect Status Update

This is the monthly WealthProtect System* status update and includes the probability (Low, Mid, High) of a change in status within the next two months. Below is a commentary on actions taken this month as well as changes in overall asset allocation.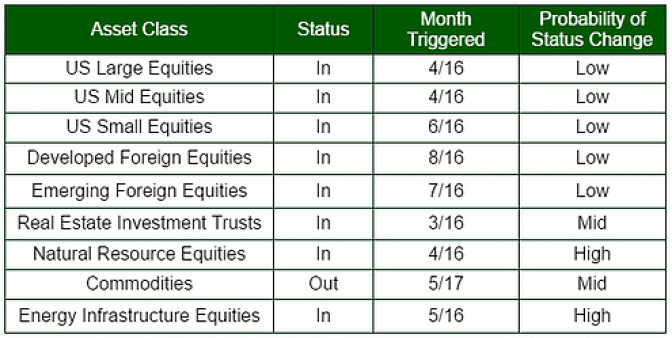 System Commentary
For the first time since October, we had a trigger in our WealthProtect System as Commodities continued to weaken and triggered out. Commodities have been frustrating as they show signs of life for a month or two only to come back down. Natural Resource and Energy Infrastructure stocks also weakened, but were short of a trigger.
Market Commentary
Real Assets (Real Estate Investment Trusts, Natural Resources, Commodities, Energy stocks) exhibited profound weakness as oil trended lower the past month or two. While large cap US stocks have fared well, small company stocks have been quite a bit weaker. The strongest performance year-to-date has been in the foreign allocations, both developed and emerging market.
Many common market psychology indicators are showing abnormally low readings of investor worry. Combined with US markets making all-time highs plus US stocks trading at historically high valuations (only exceeded by a few months in 1999-2000), this should cause investors to pause before abandoning good strategies to chase whatever appears to be working. You add to this that we are at all-time extremes on the amount of margin debt investors have, and we have a recipe for a significant downside. Remember, however, that these indicators don't tell you when the market will correct or crash; just that when they do, there is a lot of potential for serious damage. Give your Client Wealth Manager a call to discuss if you desire.