WealthProtect Status Update: April 2022
Reginald A.T. Armstrong • WealthProtect Status Update

This is the monthly WealthProtect System* status update, where we include probability (Low, Mid, High) of a change in status within the next two months. We also include a commentary on actions taken this month, changes in overall asset allocation, and on the market in general.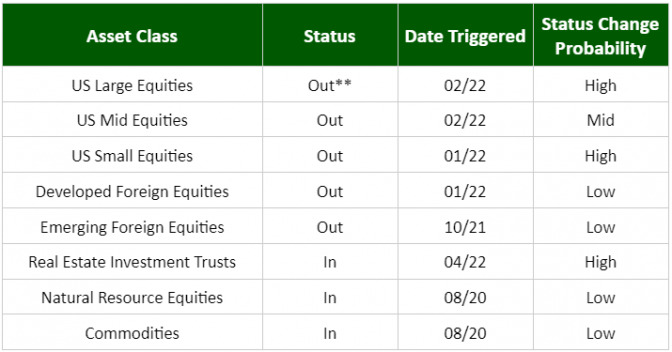 **Large Value is still in
System Commentary
Real estate barely triggered in.
Economic/Market Commentary
GDP growth appears to have slowed down in the first quarter. Stocks rebounded some in March. Commodities outperformed as inflation hit another 40-year high. Fixed income (bonds), on the other hand, had their worst quarter in about 40 years. Historically, bad bond quarters are followed by a pretty decent next 12 months, but no guarantees. Keep in mind that individual bonds have a maturity date and that they will go back to par at maturity (assuming no default). They also continue to pay their dividends. While there could still be more pain ahead, the worst of the interest rate move is likely behind us as the market has priced in 140 basis points of Fed increases yet they have only raised 25.
Portfolio Changes
In our Strategic Asset Management risk-managed portfolios, the reduction of bond risk three months ago certainly helped reduce the damage but did not eliminate it. This month for taxable accounts we harvested some of the unrealized losses in order to offset current or future capital gains. In addition, we have added a "rotation" ETF that can rotate from US stocks to foreign stocks, to commodities, or to fixed income. It is currently allocated to commodities, which tend to do well with inflation. We also added a partial position back into US real estate.
Let your wealth manager know if you have any questions. Thanks for your continued trust.