WealthProtect Status Update August 2019
Reginald A.T. Armstrong • WealthProtect Status Update

This is the monthly WealthProtect System* status update and includes the probability (Low, Mid, High) of a change in status within the next two months. We also include a commentary on actions taken this month, changes in overall asset allocation, and on the market in general.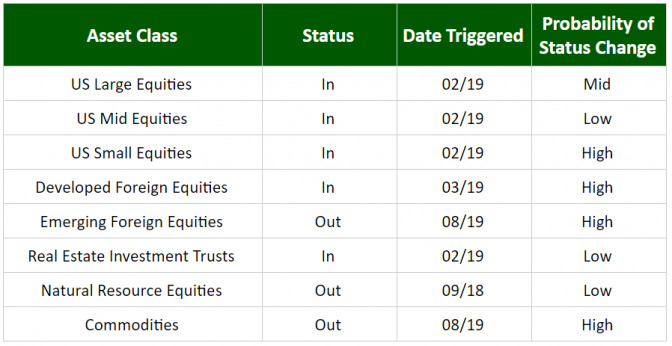 ##System Commentary Weakness in early August caused emerging foreign stocks and commodities to trigger out. Additionally, all asset classes still in moved closer to triggering out with only US Midcaps and REITs still more than 5% above their trigger points.
##Market Commentary Volatility in stocks made a comeback in early August with the trade war apparently heating up. The biggest news, however, is in the bond market as US Treasury yields plumbed lows not seen in three years. Additionally, the yield curve continued to flash a warning signal that all is not well in the economy and/or the financial system. For investors this has basically meant in the past two weeks or so that while their stock holdings have probably dropped, their bond holdings have likely increased in value, again showing the value of even basic diversification.
##Portfolio Notes Due to the US Tilt of our SAM models, we have not been in emerging foreign stocks, nor have we been invested in commodities. Consequently, this month's system triggers don't affect most SAM portfolios. If you have questions about this or any other aspect of your portfolio, please contact your wealth manager.
Thanks for your continued trust.