WealthProtect Status Update: August 2021
Reginald A.T. Armstrong • WealthProtect Status Update

This is the monthly WealthProtect System* status update, where we include probability (Low, Mid, High) of a change in status within the next two months. We also include a commentary on actions taken this month, changes in overall asset allocation, and on the market in general.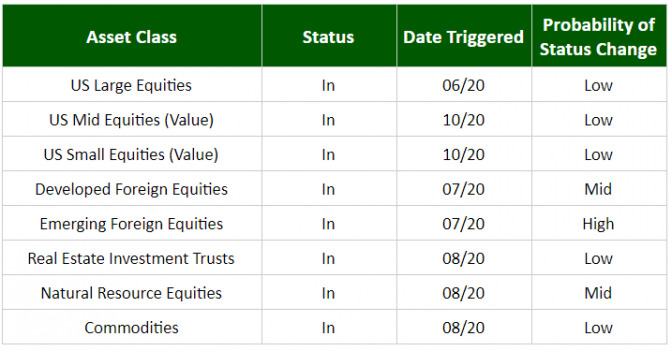 System Commentary
No changes to the system. We continue to monitor all stock positions with both the long-term moving average and a more sensitive short-term moving average.
Economic/Market Commentary
The market has been choppier, but still to the upside. Market breadth (how broad the participation is) is fairly weak, which historically indicates a tired market. In addition, recent market action indicates the odds of a rapid, sharp drop in the markets (an air pocket, if you will) is rising. Just an ongoing reminder to ensure your stock exposure is where you want it to be.
Christian Value Portfolio Update
As part of our ongoing review of the available options in our Christian Values Portfolio and the risk/reward of our models, we recently did a major rebalance in these models. Let us know if you have questions.
Thanks for your continued trust.