WealthProtect Status Update: August 2023
Reginald A.T. Armstrong • WealthProtect Status Update

We email the status of our WealthProtect System* monthly and give the probability (Low, Mid, High) of a change in status within the next two months. We also include a commentary on actions taken this month, changes in overall asset allocation, and the market in general.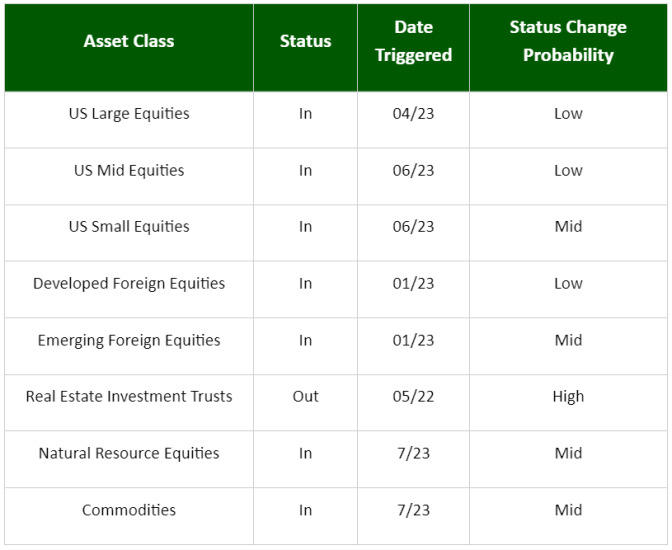 System Commentary
No triggers. REITs flirted with the trigger line over the past month, but are still below.
Economic/Market Commentary
The inflation print on Thursday continues to show a slowing rate of inflation. On the recession front, I continue to believe it is delayed, not eliminated. The yield curve has been inverted for 13 months, which is the average for when a recession begins. It has begun to steepen, which is typically an indication we are on the cusp of a recession. Leading economic indicators are down 15 months in a row and have been in recession territory for most of this year. Tax revenues are down for both federal and state governments, trucking services demand is down, cardboard box demand is down, money supply is negative, manufacturing has been in contraction all year long, delinquency rates for commercial real estate are climbing, banks are adding assets to cash instead of making loans, credit card usage is climbing, credit card application declines are climbing, and the percentage of Americans who can't handle a $400 emergency using cash or equivalents has risen to 46%. Not exactly rosy. But, you say, unemployment is still good. True, but this is the last major indicator to turn. Recently, nonfarm payrolls were revised negatively for the previous six months. The last time this happened was in the second half of 2007. Additionally, in July, we lost almost 600,000 full-time jobs but gained almost a million part-time jobs, and the number of people having two jobs rose by 118,000. This doesn't mean a recession is a lock; it does mean we need to avoid being complacent.
Thanks for your continued trust.