WealthProtect Status Update December 2018
Reginald A.T. Armstrong • WealthProtect Status Update

This is the monthly WealthProtect System* status update and includes the probability (Low, Mid, High) of a change in status within the next two months.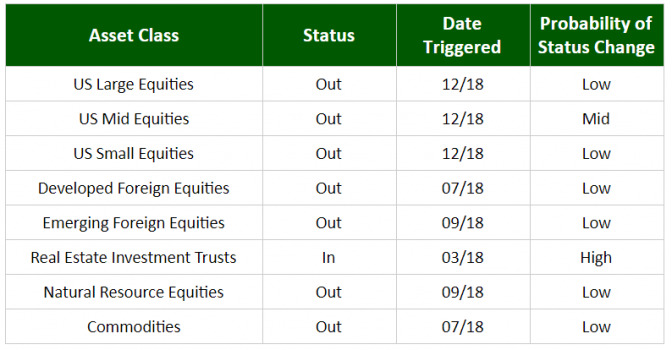 ##System Commentary Our system triggered out of US Large Caps, Mid Caps, and Small Caps this month. The only remaining equity sleeve is Real Estate Investment Trusts. So, what do we do with the assets when we sell out of equities? Generally speaking, we place them in US Treasury Bond investments, Short-Term Bond investments, and cash if it is paying well enough. The goal is to preserve capital when our signal indicates there has been a change in trend from positive to negative. This doesn't mean we are in a bear market; it means it is much more likely we are. We still could get a sharp bounce in stock prices causing us to get back into various equities.
##Market Commentary Stocks sold off in November through 11/23, before rising into month-end. Then in early December the selloff largely resumed. Only Real Estate Investment Trusts have fared reasonably well, though still negative. It is still too early to tell whether this is a brutal correction, or the start of something more significant. With indices below their longer term trendlines, the odds that we are witnessing a change from bullish trend to bearish is increasing. Please give one of us a call if you would like to discuss your personal situation.
Thanks for your continued trust.