WealthProtect Status Update: December 2022
Reginald A.T. Armstrong • WealthProtect Status Update

This is the monthly WealthProtect System* status update, where we include probability (Low, Mid, High) of a change in status within the next two months. We also include a commentary on actions taken this month, changes in overall asset allocation, and on the market in general.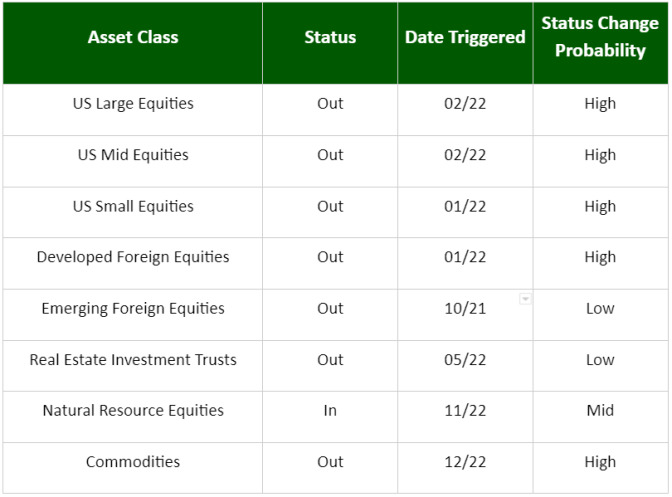 System Commentary
Large Value stocks triggered in, but due to the tremendous volatility surrounding the inflation print of 12/13 and The Fed's interest rate decision on 12/14, for our models, we are waiting for a bit more clarity to avoid buying on what could be a short-term pop. US large core stocks and US small value are also close to triggering in. Commodities triggered out, and in our models, the momentum investment we use also moved out of commodities to international stocks, which have been recovering well.
Economic/Market Commentary
Inflation is slowly coming down as expected, and the markets are rejoicing. However, the serious potential for a material slowdown in company earnings due to a likely recession has not been priced in. This will likely be the story of 2023.
Thanks for your continued trust and have a Merry Christmas and Happy New Year.