WealthProtect Status Update February 2020
Reginald A.T. Armstrong • WealthProtect Status Update

This is the monthly WealthProtect System* status update and includes the probability (Low, Mid, High) of a change in status within the next two months. We also include a commentary on actions taken this month, changes in overall asset allocation, and on the market in general.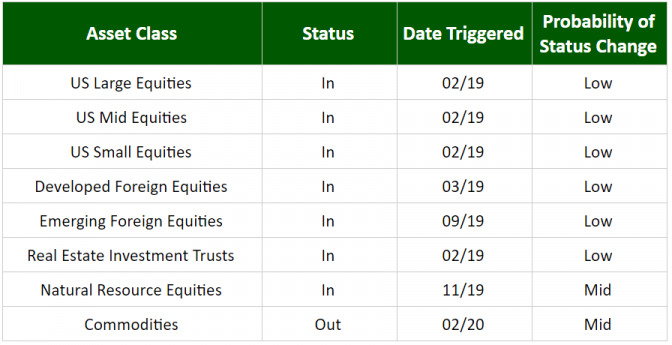 ##System Commentary Commodities triggered out, again. Oil and copper are the main culprits.
##Market Commentary The markets which had weakened a bit in January, strengthened again so far in February, except for the natural resource sector as oil was hit hard with fears of a global slowdown due to the coronavirus. Still, the overall trend of the market remains positive and our portfolios reflect this. Markets continue to be overvalued so any major scare will likely lead to a sharp short-term drop. Keep in mind that most of the time these are temporary setbacks. Our system is not designed to catch those; the system is designed to help reduce the losses from a deep drop. Let us know if you have any questions.
Thanks for your continued trust.