WealthProtect Status Update February 2019
Reginald A.T. Armstrong • WealthProtect Status Update

This is the monthly WealthProtect System* status update and includes the probability (Low, Mid, High) of a change in status within the next two months. We also include a commentary on actions taken this month, changes in overall asset allocation, and on the market in general.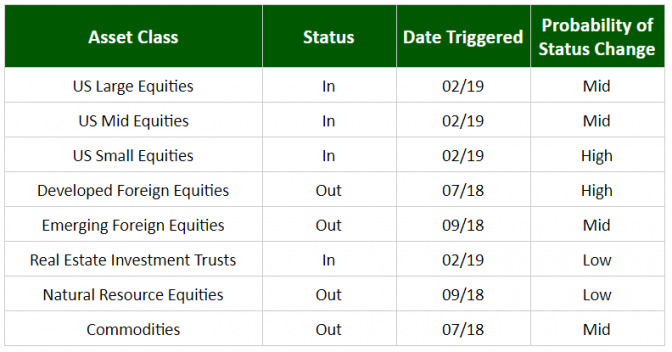 ##System Commentary The fast and furious rally of the December 24th lows caused our system to re-enter US equities across the board as well as Global REITs. All asset classes improved in the past month, including bonds. The move has been so strong that it wouldn't be surprising to see some give back here. While it may be frustrating to have investments go in and out, keep in mind the overall objective: to attempt to capture 70-80% of the big upside moves, and attempt to avoid 70-80% of the big downside moves. The wiggles in the middle are not fun, but not normally very detrimental.
##Market Commentary The S&P 500, after topping on September 20th, 2018, had its worst December since 1931. It has since had one of its strongest rallies since 1973. This has caused many to believe the worst is over and that we are back off to the races. While the movements of the markets and our system triggering back in do seem to indicate that this was more of a serious correction than the first leg of a bear market, I do want to ensure the rally is kept in perspective.
US equities continue to be very overvalued; this is either the most, second most, or third most expensive market in history, depending on how you want to measure. So, this recent drop and rally have not changed the fundamentals much at all. We continue, in our opinion, to be in the late stages of this economic expansion. Earnings growth seems to be slowing, retail sales plummeted in a report that came out on 2/14, Italy is signaling recession, and China and Germany's economic numbers are weaker than expected.
Bottom line: stay nimble and call us if you have any questions.
Thanks for your continued trust.