WealthProtect Status Update: February 2023
Reginald A.T. Armstrong • WealthProtect Status Update

This is the monthly WealthProtect System* status update, where we include probability (Low, Mid, High) of a change in status within the next two months. We also include a commentary on actions taken this month, changes in overall asset allocation, and on the market in general.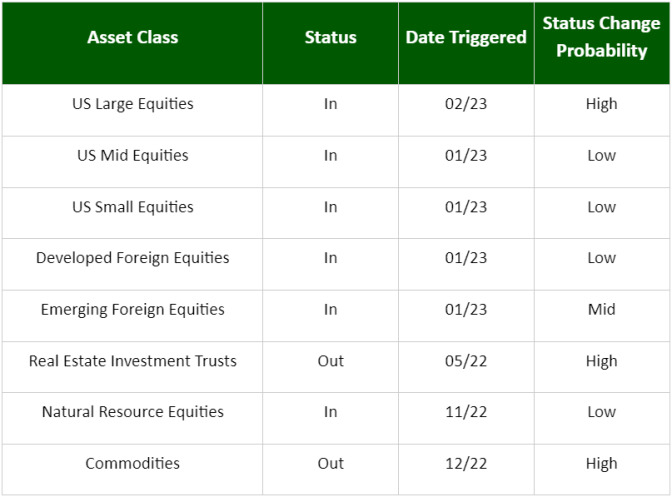 System Commentary
Market strength continued throughout January into February, especially in the hardest-hit growth stocks. Therefore, US Large Core triggered in, and Real Estate Investment Trusts almost did.
Economic/Market Commentary
The recent surge of most markets above longer-term moving averages, combined with other intermediate-term measures, suggests that markets are likely to move higher over the next few months. It also suggests that it is possible the economy skirts a recession since the markets tend to be a leading indicator. However, this flies in the face of other economic measures that point to a looming recession, and possibly a severe one at that. If we don't have a recession, stocks can move higher from here despite their still expensive valuation. Bonds should do well as they are attractively priced. If, however, we do have a recession that impacts earnings, then another leg lower in stocks is likely, and bonds should do particularly well. I believe the odds of recession are well over 50%.
So, if I believe a recession is likely, why are we triggering into stocks? Because we need to stick with our methodology. We don't want to find out after a 20% up move in stocks that we should have triggered in, but didn't. Plus, if markets turn lower and the markets cross their trend lines, we then get back out to protect capital.
Please call your wealth manager if you have any questions.
Thanks for your continued trust.