WealthProtect Status Update January 2018
Reginald A.T. Armstrong • WealthProtect Status Update

This is the monthly WealthProtect System* status update and includes the probability (Low, Mid, High) of a change in status within the next two months.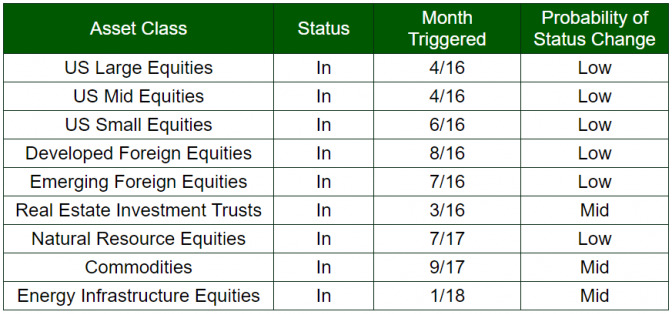 ##System Commentary Energy infrastructure equities finally triggered in as they have strengthened over the past 2 months. We sit 100% invested in the equity portion of our diversified models.
##Market Commentary
While the domestic equity market continues to look frothy, and US bonds have declined while US Treasury yields have risen in the new year, the potential story for 2018 may be the strengthening of certain real assets. Natural resource equities, commodities, and energy infrastructure equities have all seen a nice strengthening of late. Since these investments have been disappointing in the past few years, to say the least, this may simply be a false signal. Jeffrey Gundlach of DoubleLine Capital, the current "bond king", has stated that he believes US equities will end 2018 in the red, but that the bull story will be in commodities. We will see whether this pans out, but Cliff Asness of AQR has written a white paper that illustrates that commodities historically have outperformed when US equities underperform over many rolling five-year periods (and vice versa). Past performance, of course, is no indication of future results.
Thanks for your continued trust and here is to a fantastic 2018.