WealthProtect Status Update: July 2022
Reginald A.T. Armstrong • WealthProtect Status Update

This is the monthly WealthProtect System* status update, where we include probability (Low, Mid, High) of a change in status within the next two months. We also include a commentary on actions taken this month, changes in overall asset allocation, and on the market in general.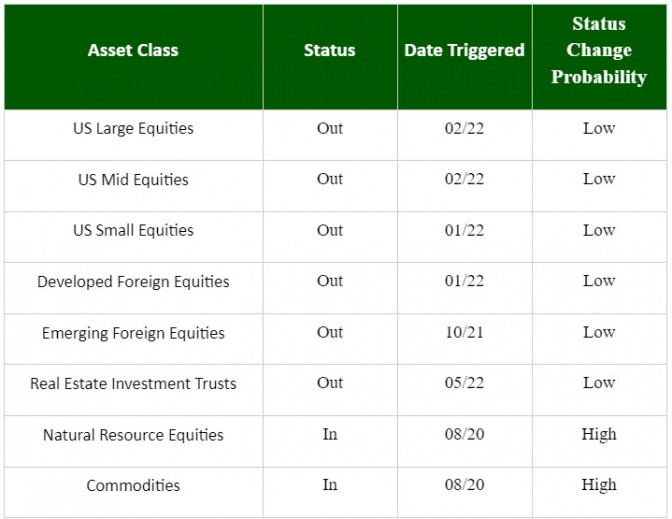 System Commentary
There were no changes to triggers, but stocks weakened sharply in June. In addition, natural resources and commodities had their first serious correction since the beginning of the year.
Economic/Market Commentary
GDP for the first quarter was revised down to -1.6% and the estimate for the second quarter by the Atlanta Fed is -1.2% as of July 8th. One reason commodities have pulled back and bond yields have been in a range is that there is a tug of war by investors between fear of inflation (which usually means rising interest rates) and fear of recession (which usually means declining rates). While June inflation came in at 9.1%, many of the inputs have been rolling over the past month. Mortgage refinancing, home sales, car sales, and many other figures are showing demand destruction, and these should show up in the next few month's inflation figures. While this means we may finally get lower inflation, it also means we likely get a recession. The last 14 times since World War II that the Fed has gone on an interest rate hiking cycle, it has led to a recession 11 times. Not a good track record.
So, what does this mean for investments? First, understand that the above is my best guess; maybe we will escape recession. But if we do get a recession, that likely means corporate earnings will go lower, which means stocks will likely take another leg down. Stocks are no longer frothy, but they are not cheap yet. For bonds, it will likely mean they will resume their traditional hedge against stock risk by rising.
Call your wealth manager if you have any questions or concerns.
Thanks for your continued trust.