WealthProtect Status Update June 2019
Reginald A.T. Armstrong • WealthProtect Status Update

This is the monthly WealthProtect System* status update and includes the probability (Low, Mid, High) of a change in status within the next two months. We also include a commentary on actions taken this month, changes in overall asset allocation, and on the market in general.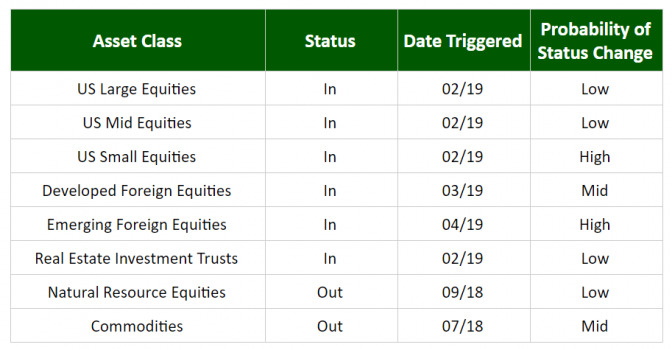 ##System Commentary There were no triggering events this month thanks to the strong rally so far in June.
##Market Commentary After a very nasty May, markets had a strong rebound in the first week or so of June. May market action took several of our asset classes to the point of triggering out, but the subsequent strong rally kept things status quo. The closest to triggering either in or out are small cap stocks which have been weaker in the past 6-8 weeks. Bond yields after making new lows (as measured by the US 10-year Treasury yield) have risen a little bit, but not a lot. So back in September of 2018 US stocks hit a peak, dropped about 20%, and have rebounded within a few percentage points of the peak. The 10-year US Treasury yield, on the other hand, went from about 3.23% in October of 2018, went down to about 2.74% at the low of the US stock market on 12/24/18, and as of June 12, 2019, instead of rebounding have continued to drop to about 2.11%. (This has, as an aside, helped bond returns to be particularly strong.) In addition, the 3-month Treasury has a higher yield than longer-dated bonds all the way out past 10 years. Something doesn't add up; the bond market isn't buying the rebound in the stock market. We will find out soon enough, but in my experience, the bond market is correct more often than the stock market. The bond market is hinting at a slowdown in the economy; perhaps even an approaching recession.
So, what does this mean for you? Most importantly, in my opinion, it means checking your financial house. This may not be the wisest time to take out new loans. This may be a good time to pay down debts. This is a good time to ensure you have an adequate emergency cash reserve fund. Finally, it is also a good time to check your portfolio allocation to ensure your potential risk exposure is in line with your goals and expectations. Please contact your wealth manager if you have any questions.
Thanks for your continued trust.