WealthProtect Status Update March 2018
Reginald A.T. Armstrong • WealthProtect Status Update

This is the monthly WealthProtect System* status update and includes the probability (Low, Mid, High) of a change in status within the next two months.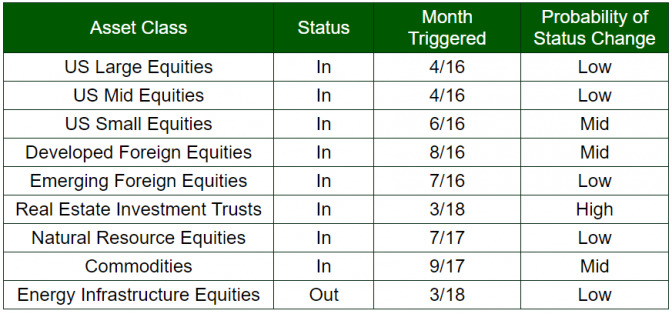 ##System Commentary While US stocks began to reflect less volatility in the past month between the market high of January 26th and the low of early February, other asset classes continued to be buffeted by bond and oil turbulence. This caused our Real Estate Investment Trust position to trigger back in, while causing our Energy Infrastructure equities to trigger out. These sorts of whipsaws are very frustrating and can lead to confusion about how strategy.
Our WealthProtect System* is designed to manage the risk that comes from large market drops, as well as to help participate in the large upswings. It is not designed to catch every wiggle. Consequently, our trendline rules are sensitive enough to hopefully catch the major market moves, but not so sensitive they are constantly trading in and out. Unfortunately, from time to time, as a market is changing trends, these whipsaws can still happen. It is one of our system's side effects, but we believe better than the alternative of hanging on for dear life in a major bear market or kicking yourself for not getting back in if you got out emotionally.
##Market Commentary
The market has been in a consolidation mode after the recent volatility. The direction of the market remains uncertain, but biased to the upside in the short term.
Thanks for your trust and call us if you have any questions