WealthProtect Status Update March 2019
Reginald A.T. Armstrong • WealthProtect Status Update

This is the monthly WealthProtect System* status update and includes the probability (Low, Mid, High) of a change in status within the next two months. We also include a commentary on actions taken this month, changes in overall asset allocation, and on the market in general.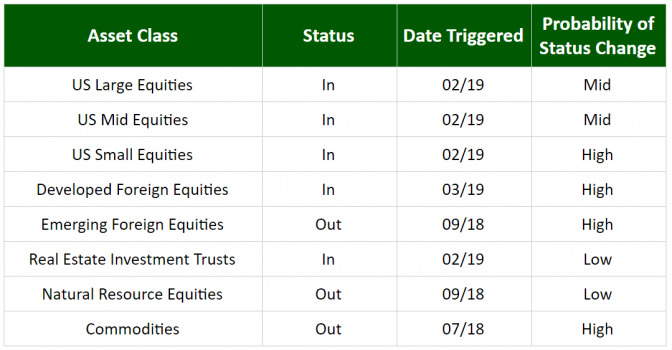 ##System Commentary The rally slowed down a bit, but still had enough momentum to trigger in Developed Foreign Equities. Emerging Foreign Equities were very close to triggering in.
##Model Commentary Just a quick reminder that our system status update follows these eight broad asset classes and it does not necessarily indicate how our models are invested. For example, emerging equities could trigger in, but if our current portfolio tilt is more US, then it is possible we would not own the asset class. Contact your wealth manager if you have specific questions.
##Market Commentary The S&P 500 after a strong rebound, is flirting with the psychologically important level of 2800. While the current market pattern resembles more of a correction, a few caveats are warranted. One, until the market exceeds the top of September 20th, 2018, we cannot be positive this was a correction. Second, and more importantly, in my opinion, the recent equity rally in the past few weeks has been accompanied by a decline in US Treasury yields. Normally yields go down when stocks go down, not when stocks go up. The bond market doesn't seem to be buying stock strength here. Historically, when the bond market says one thing, and the stock market another, the bond market is usually correct.
Bottom line is we may be in a bear market as bond guru Jeffrey Gundlach believes, but the evidence is not in yet. It does mean this is a good time to make sure your stock exposure is acceptable to you.
Thanks for your continued trust.