WealthProtect Status Update March 2020
Reginald A.T. Armstrong • WealthProtect Status Update

This is the monthly WealthProtect System* status update and includes the probability (Low, Mid, High) of a change in status within the next two months. We also include a commentary on actions taken this month, changes in overall asset allocation, and on the market in general.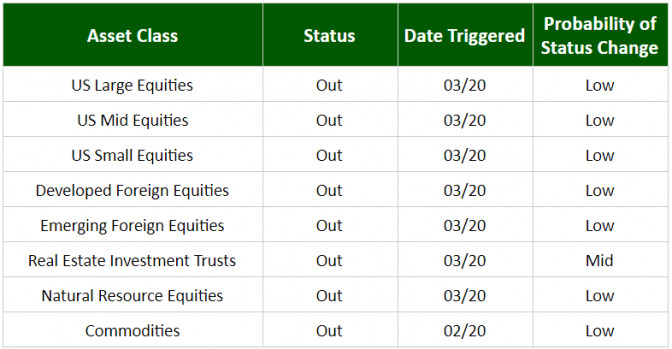 ##System Commentary All asset classes triggered out. Markets hit a peak on 2/19/20 and then quickly hit the skids as fears over COVID-19 spread. Unfortunately, this was the fastest drop from peak to 10% correction and 20% bear market in history. Since our Wealth_Protect_ System is not designed for one day or 1-3-week reactions, its benefit may be less than in the recent past. As a reminder, the purpose of the system is NOT to remove the risk of market drops of under 20%; it is to reduce the impact of market drops BEYOND 20%. The challenge, of course, is we have no way of knowing if this thing is about over, or whether we are just in the first phase of the drop.
##Market Commentary This is what I said last month: Markets continue to be overvalued so any major scare will likely lead to a sharp short-term drop. Keep in mind that most of the time these are temporary setbacks. Our system is not designed to catch those; the system is designed to help reduce the losses from a deep drop. Little did I know that would start just a week or so later. We are now in an official bear market. While I believe the panic over the virus to be way exaggerated, the economic damage will be real. The economy was strengthening between December and February, so if the damage is modest, perhaps the market reaction will not be much worse. On the other hand, if the disruptions hurt earnings even more than expected (at this point we have no way of knowing how bad it is) then further market declines are likely as the risk of recession becomes real.
##Portfolio Commentary There has been quite a bit of credit stress in the bond markets so we have increased the quality of our bond portfolio and increased the cash allocation as we would rather let things sort themselves out.
It has been a tough three weeks in the market, wiping out the gains of 2019 for many investors. This too shall pass. Finally, while the panic due to the virus is probably exaggerated, for those who contract it—just like the flu or any other disease—it is very real. Stay safe and please call us if you have any questions.
Thanks for your continued trust.