WealthProtect Status Update: March 2021
Reginald A.T. Armstrong • WealthProtect Status Update

This is the monthly WealthProtect System* status update, where we include probability (Low, Mid, High) of a change in status within the next two months. We also include a commentary on actions taken this month, changes in overall asset allocation, and on the market in general.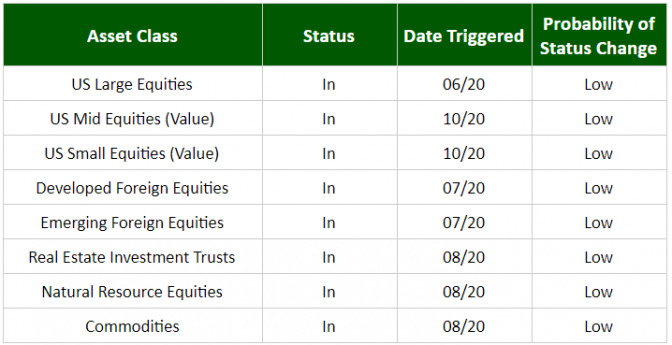 System Commentary
No changes to the system.
Economic/Market Commentary
The re-opening of the broader economy due to widespread vaccinations is leading many economists to expect solid economic growth in the first half of this year. Earnings, which fell 31% last year, appear to be on the upswing as well. This has led to a sharp rise in treasury yields leading to a "sell-off" in bonds. When only stocks seem to go up, it can cause an investor to wonder why they should own anything else. This is usually painfully answered when the cycle inevitably goes through its next downstroke. While the fiscal stimulus and easy money will likely keep the market in the green over the next month or two, keep in mind equities remain at extreme valuations. Revisit your allocation from time to time; just don't get caught up in the emotions of a bull market.
Thanks for your continued trust.