WealthProtect Status Update: March 2023
Reginald A.T. Armstrong • WealthProtect Status Update

This is the monthly WealthProtect System* status update, where we include probability (Low, Mid, High) of a change in status within the next two months. We also include a commentary on actions taken this month, changes in overall asset allocation, and on the market in general.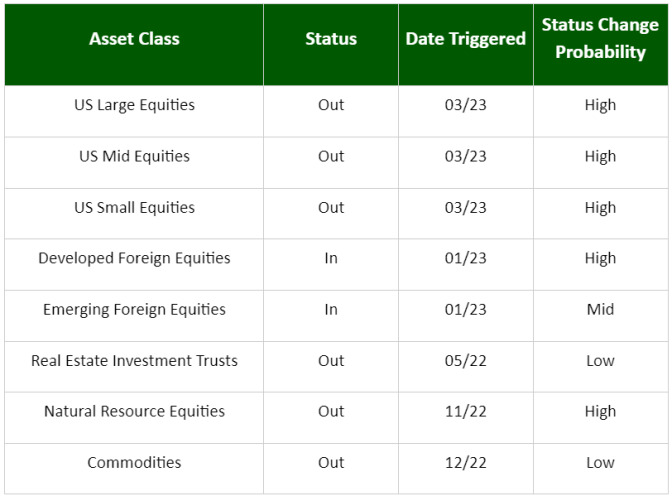 Monday Update
I prepare these updates on the Thursday prior to the Tuesday email. Well, a ton happened between late Thursday and Monday morning. Bottom line, the market action on Thursday and Friday triggered us out of several positions. Below I will list my original comments, followed by the updated comment.
System Commentary
Equity markets suffered a pullback, but not enough to cross our trend lines; no changes this month.
Monday Update: We triggered out of Large Cap Core and Small Cap Value. It is possible we will trigger out of Large Cap Value and foreign stocks this week.
Economic/Market Commentary
The current market pullback seems to be a normal one within the context of a short to intermediate term bullish move. So far the markets have stayed above the trend lines they crossed in the prior months. That being said, it all depends on whether we are heading into a recession. While the evidence is still fairly divided, history is on the side that suggests a recession is likely 3-6 months away. If that is the case, equity markets will likely start to turn lower in 1-3 months. As always, we play it as it lies, not as we want it to be.
Monday Update: Markets, especially bank stocks, have taken a big hit as fear spreads of a bank failure contagion. Bonds, on the other hand, are having a huge rally due to flight to safety and bond markets betting that the Federal Reserve will stop raising rates very soon.
Monday Update on Bank Deposit Safety
Silicon Valley Bank and Signature Bank had very risky profiles, with the majority of their deposits from companies and individuals that had more than $250,000 in deposits. Most retail banks are not in that position. If you have $250,000 or less in deposit at a bank per social security number, your money is FDIC insured and you likely have nothing to worry about. If you have more than that, you may want to consider doing one of two things:
Spread your money between sufficient banks so all your cash is FDIC insured, or

Move the excess money to an LPL account. The protections at an investment firm are different than a bank, but can usually protect far more in assets from insolvency or fraud. Click here for a listing of the account protection and oversight your accounts have at LPL Financial.
Please call your wealth manager if you have any questions.
Thanks for your continued trust.