WealthProtect Status Update May 2019
Reginald A.T. Armstrong • WealthProtect Status Update

This is the monthly WealthProtect System* status update and includes the probability (Low, Mid, High) of a change in status within the next two months. We also include a commentary on actions taken this month, changes in overall asset allocation, and on the market in general.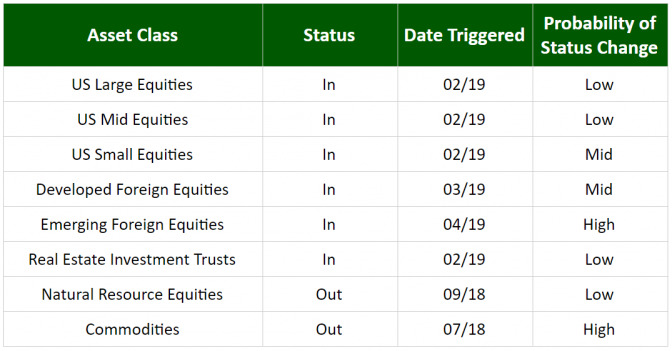 ##System Commentary There were no triggering events this month.
##Market Commentary Markets continued to strengthen over the past month until last week. While the S&P 500 hit a nominal high mark, most individual stocks are still below their January 2018 peak. Essentially, after a strong up market from 2/16 through 1/18, equities have gone sideways. However, with the S&P taking out the 9/20/18 high, it does appear the drop last fall was a correction. I say appear since we are currently only 0.2% above that level including dividends. While less likely, it is still possible we are in the early stages of a bear market. Certainly, the bond market is not convinced we are in the clear as Treasury yields are significantly lower than back in September. We will continue to monitor.
Thanks for your continued trust.