WealthProtect Status Update: May 2021
Reginald A.T. Armstrong • WealthProtect Status Update

This is the monthly WealthProtect System* status update, where we include probability (Low, Mid, High) of a change in status within the next two months. We also include a commentary on actions taken this month, changes in overall asset allocation, and on the market in general.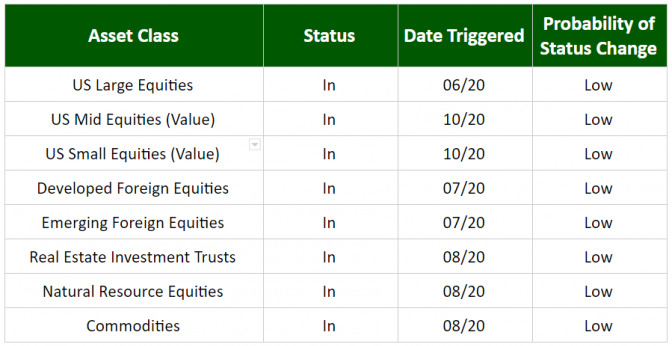 System Commentary
No changes to the system.
Economic/Market Commentary
Markets continued to move upwards with nary a bump until last week. We are well overdue a correction in the 5%-10% range, plus we are now in the more volatile May-October period. If you add to this worries of higher inflation, some turbulence should be expected, even if it isn't the big crash. Speaking of crashes, the market continues to be the most expensive on record by most measures. Also, with more money having entered the market in the past five months than in the past 12 years, and with margin debt the highest on record, things are looking frothy here. Therefore, be careful to not overextend your stock exposure.
One other note. Small cap growth stocks since February have really taken it on the chin. This may be nothing more than a rotation to move economically sensitive stocks. However, historically small caps tend to get weak before the broader market. We will keep watch on this.
Thanks for your continued trust.