WealthProtect Status Update November 2019
Reginald A.T. Armstrong • WealthProtect Status Update

This is the monthly WealthProtect System* status update and includes the probability (Low, Mid, High) of a change in status within the next two months. We also include a commentary on actions taken this month, changes in overall asset allocation, and on the market in general.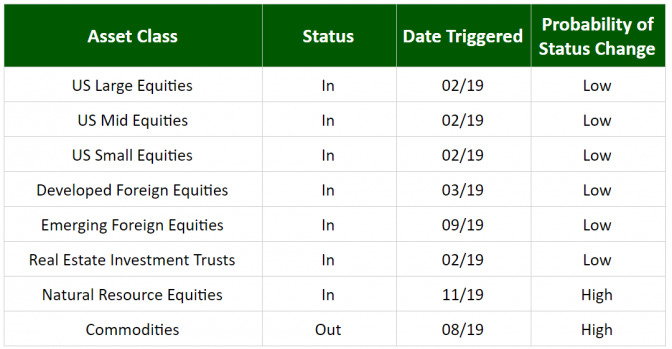 ##System Commentary Natural Resource Equities triggered in as equities, in general, had a good month. Commodities were very close to triggering in.
##Market Commentary Over the past month, stocks continued to strengthen, especially for small caps, as economic news seemed to indicate we had been going through a soft patch, not the lead-up to a recession. The only asset class to weaken was Real Estate Investment Trusts as they lost some of their gains due to rising bond yields. Bond yields spiked the first 10 calendar days of November before coming back down a bit. Yields seem to be rising due to better economic data and expectations of a resolution of China trade issues.
Markets continue to be overvalued by all reasonable measures, but the trend of the market says the bull run isn't over yet. Stay tuned.
Thanks for your continued trust.