WealthProtect Status Update: November 2022
Reginald A.T. Armstrong • WealthProtect Status Update

This is the monthly WealthProtect System* status update, where we include probability (Low, Mid, High) of a change in status within the next two months. We also include a commentary on actions taken this month, changes in overall asset allocation, and on the market in general.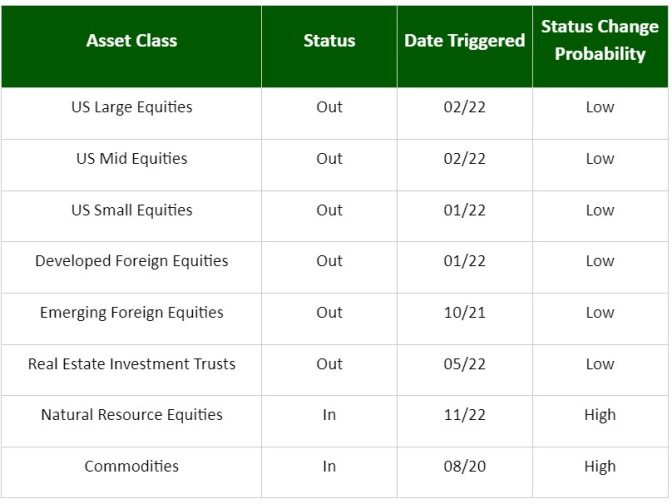 System Commentary
The only change this month is that natural resource equities just barely triggered back in. However, the strong move in stocks and bonds on November 10th due to the lower-than-expected inflation print may cause us to trigger into large-cap value stocks. We are also close to adding to our bond exposure.
Economic/Market Commentary
The slower-than-expected inflation increase was celebrated by the markets as it hints to a slowing down of Federal Reserve rate hikes. However, the markets have yet to consider the impact on earnings (and therefore stock valuations) if we do slide into recession as many indicators suggest. Stocks are no longer nosebleed expensive, but they aren't even at fair value, so I doubt this is the time to load up on them. Regardless, we will continue to invest based on facts and not opinions.
One side note: in many of our non-IRA accounts we are conducting what is known as tax loss harvesting. We are selling a position that has unrealized losses in order to benefit tax-wise and then buying it back no sooner than 30 days later. We either invest in a similar investment or cash during this short period. It's not that we have lost faith in our original investment; it is simply a way to take a small benefit from a bad year. Let your wealth manager know if you have questions on this, please.
Thanks for your continued trust and have a blessed Thanksgiving.