WealthProtect Status Update: November 2023
Reginald A.T. Armstrong • WealthProtect Status Update

We email the status of our WealthProtect System* monthly and give the probability (Low, Mid, High) of a change in status within the next two months. We also include a commentary on actions taken this month, changes in overall asset allocation, and the market in general.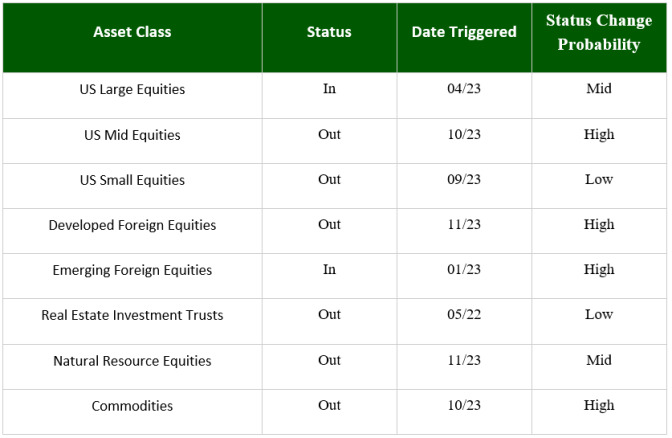 System Commentary
Ongoing weakness ended almost precisely on November 1st, the beginning of the historically best six months of the year for the US stock market. Stocks had a furious 5% melt-up over a handful of days. This kept US large stocks from triggering out. Developed foreign equities technically triggered out but are close enough to the trigger line that we will wait briefly before making a move as it is likely they cross above soon. If they don't, we will exit. Bonds also had a tremendous week recovering some from recent weakness.
Economic/Market Commentary
Weakness in manufacturing continues, while the services part of the economy is experiencing weaker growth. While earnings in the third quarter were decent, the outlook by most companies was cautious. My best guess here is that stocks will likely be positive through the end of the year, but as we turn the calendar the outlook will likely be cloudy fairly quickly. We are not out of the woods; the odds of a recession in the first half of 2024 are greater than most think. If the bumpiness of the past three months has you concerned, please contact your wealth manager.
Thanks for your continued trust.