WealthProtect Status Update September 2019
Reginald A.T. Armstrong • WealthProtect Status Update

This is the monthly WealthProtect System* status update and includes the probability (Low, Mid, High) of a change in status within the next two months. We also include a commentary on actions taken this month, changes in overall asset allocation, and on the market in general.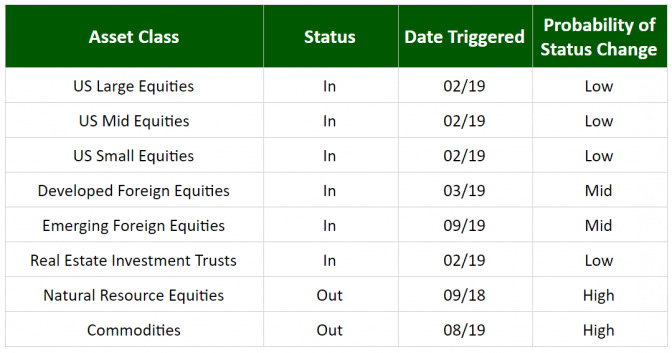 ##System Commentary Weakness in early August caused emerging foreign stocks and commodities to trigger out. Additionally, all asset classes still in moved closer to triggering out with only US Midcaps and REITs still more than 5% above their trigger points.
##Market Commentary Equities' strength was accompanied by bond yields dropping in late August through early September. The strangeness of the yield curve continued with at one point the 3-month US Treasury note paying more than the 30 year Bond. This reversed in the second week of September as yields snapped back some and the yield curve became a little less inverted.
##Portfolio Notes In our SAM models, we swapped one of our core bond holdings with an ultrashort bond investment. This was to reduce the interest rate sensitivity of our bond mix and to avoid losing too much of this year's bond gains if yields climb much higher. If you have questions about this or any other aspect of your portfolio, please contact your wealth manager.
Thanks for your continued trust.